Collapsible content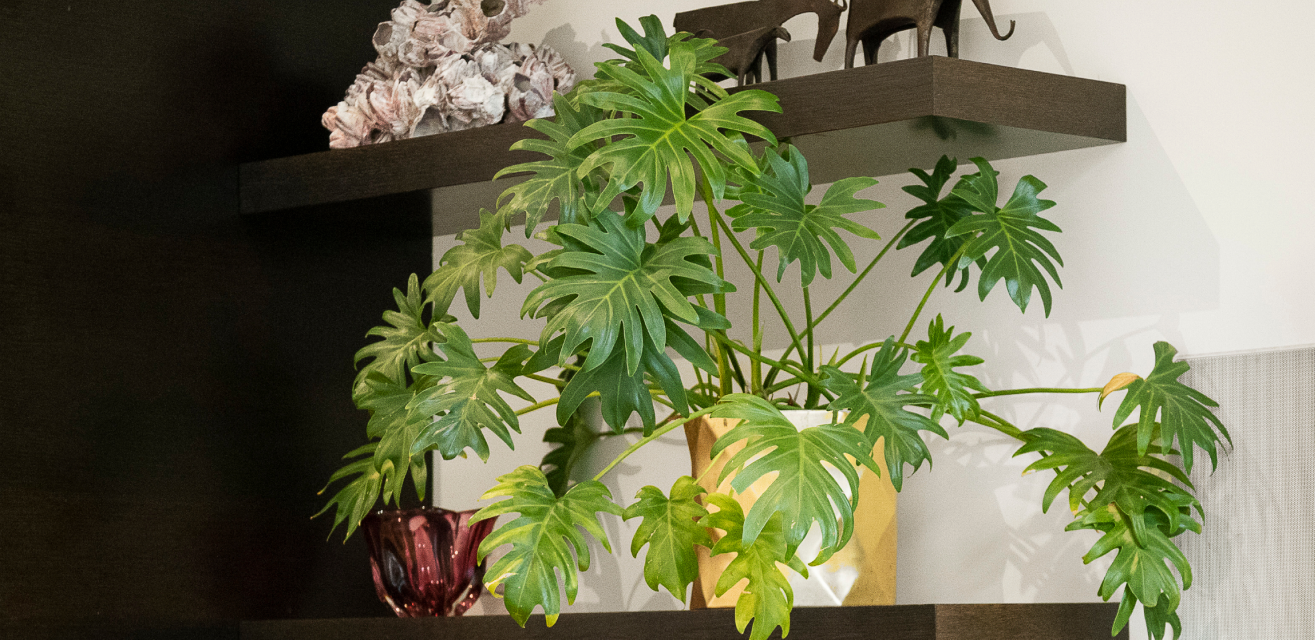 GROW YOUR GREEN THUMB

There's no such thing as a green thumb. Regardless of how much light, humidity, and water you can give your plant, there is a plant for you.
How much light will it get?

If you have a south or west-facing window, it will get direct sun.

If you have an east or west-facing window, you have bright light.

If you have a north-facing window, or your plant won't be close to the window, you have shade.
When do I want to water it?

Most plants need water about once a week. Some are drought-tolerant, and others want to get watered almost daily.

Plants don't get water on a schedule in the wild, and you don't need to stick to a tight schedule indoors. Just make sure you know if it doesn't like to dry out, wants to dry out halfway, or likes to dry out completely between watering.
How humid is it?

For most spaces, if you put a plant near a vent, the air will be dry. If you have a humidifier or an essential oil diffuser nearby, that can help make it humid. Some plants don't mind dry air, and others will drop their leaves.
Regular price

From $85.50 CAD

Regular price

$105.00 CAD

Sale price

From $85.50 CAD

Unit price

per

Regular price

From $98.00 CAD

Regular price

$105.00 CAD

Sale price

From $98.00 CAD

Unit price

per

Regular price

$100.00 CAD

Regular price

$100.00 CAD

Sale price

$100.00 CAD

Unit price

per

Regular price

$40.00 CAD

Sale price

$40.00 CAD

Unit price

per

Regular price

$65.00 CAD

Sale price

$65.00 CAD

Unit price

per

Regular price

$25.00 CAD

Sale price

$25.00 CAD

Unit price

per

Regular price

$25.00 CAD

Sale price

$25.00 CAD

Unit price

per

Regular price

$505.00 CAD

Regular price

$505.00 CAD

Sale price

$505.00 CAD

Unit price

per

Regular price

$30.00 CAD

Sale price

$30.00 CAD

Unit price

per

Regular price

$30.00 CAD

Sale price

$30.00 CAD

Unit price

per

Regular price

$30.00 CAD

Sale price

$30.00 CAD

Unit price

per

Regular price

$30.00 CAD

Sale price

$25.00 CAD

Unit price

per

Regular price

$35.00 CAD

Sale price

$35.00 CAD

Unit price

per

Regular price

From $280.00 CAD

Regular price

$280.00 CAD

Sale price

From $280.00 CAD

Unit price

per

Regular price

$105.00 CAD

Regular price

$105.00 CAD

Sale price

$105.00 CAD

Unit price

per

Regular price

$30.00 CAD

Sale price

$20.00 CAD

Unit price

per

Regular price

From $85.00 CAD

Regular price

$95.00 CAD

Sale price

From $85.00 CAD

Unit price

per

Regular price

$20.00 CAD

Sale price

$20.00 CAD

Unit price

per

Regular price

From $315.00 CAD

Regular price

$315.00 CAD

Sale price

From $315.00 CAD

Unit price

per

Regular price

$225.00 CAD

Regular price

$225.00 CAD

Sale price

$225.00 CAD

Unit price

per

Regular price

$85.00 CAD

Sale price

$85.00 CAD

Unit price

per

Regular price

$30.00 CAD

Sale price

$30.00 CAD

Unit price

per

Regular price

$75.00 CAD

Sale price

$60.00 CAD

Unit price

per

Regular price

$30.00 CAD

Sale price

$30.00 CAD

Unit price

per

Regular price

$95.00 CAD

Sale price

$95.00 CAD

Unit price

per

Regular price

$65.00 CAD

Sale price

$65.00 CAD

Unit price

per

Regular price

$75.00 CAD

Sale price

$75.00 CAD

Unit price

per

Regular price

$35.00 CAD

Sale price

$35.00 CAD

Unit price

per

Regular price

From $55.00 CAD

Regular price

$55.00 CAD

Sale price

From $55.00 CAD

Unit price

per

Regular price

$35.00 CAD

Sale price

$35.00 CAD

Unit price

per

Regular price

$315.00 CAD

Regular price

$315.00 CAD

Sale price

$315.00 CAD

Unit price

per

Regular price

$30.00 CAD

Sale price

$7.50 CAD

Unit price

per

Regular price

$40.00 CAD

Sale price

$30.00 CAD

Unit price

per

Regular price

$55.00 CAD

Sale price

$55.00 CAD

Unit price

per

Regular price

$220.00 CAD

Regular price

$220.00 CAD

Sale price

$220.00 CAD

Unit price

per

Regular price

From $95.00 CAD

Regular price

$95.00 CAD

Sale price

From $95.00 CAD

Unit price

per

Regular price

$95.00 CAD

Sale price

$95.00 CAD

Unit price

per

Regular price

From $65.00 CAD

Regular price

$100.00 CAD

Sale price

From $65.00 CAD

Unit price

per

Regular price

$95.00 CAD

Sale price

$95.00 CAD

Unit price

per

Regular price

From $95.00 CAD

Regular price

$95.00 CAD

Sale price

From $95.00 CAD

Unit price

per

Regular price

$85.00 CAD

Sale price

$85.00 CAD

Unit price

per

Regular price

$125.00 CAD

Regular price

$125.00 CAD

Sale price

$125.00 CAD

Unit price

per

Regular price

$45.00 CAD

Sale price

$45.00 CAD

Unit price

per

Regular price

$375.00 CAD

Regular price

$375.00 CAD

Sale price

$375.00 CAD

Unit price

per

Regular price

$45.00 CAD

Sale price

$45.00 CAD

Unit price

per

Regular price

From $60.00 CAD

Regular price

$60.00 CAD

Sale price

From $60.00 CAD

Unit price

per

Regular price

$305.00 CAD

Regular price

$305.00 CAD

Sale price

$305.00 CAD

Unit price

per

Regular price

$85.00 CAD

Sale price

$85.00 CAD

Unit price

per

Regular price

$500.00 CAD

Regular price

$950.00 CAD

Sale price

$500.00 CAD

Unit price

per

Regular price

From $250.00 CAD

Regular price

$250.00 CAD

Sale price

From $250.00 CAD

Unit price

per

Regular price

From $95.00 CAD

Regular price

$95.00 CAD

Sale price

From $95.00 CAD

Unit price

per

Regular price

$35.00 CAD

Sale price

$35.00 CAD

Unit price

per

Regular price

From $195.00 CAD

Regular price

$195.00 CAD

Sale price

From $195.00 CAD

Unit price

per

Regular price

$185.00 CAD

Regular price

$185.00 CAD

Sale price

$185.00 CAD

Unit price

per

Regular price

$85.00 CAD

Sale price

$85.00 CAD

Unit price

per

Regular price

$55.00 CAD

Sale price

$55.00 CAD

Unit price

per

Regular price

$235.00 CAD

Regular price

$235.00 CAD

Sale price

$235.00 CAD

Unit price

per

Regular price

$225.00 CAD

Regular price

$225.00 CAD

Sale price

$225.00 CAD

Unit price

per

Regular price

$30.00 CAD

Sale price

$30.00 CAD

Unit price

per

Regular price

From $85.00 CAD

Regular price

$85.00 CAD

Sale price

From $85.00 CAD

Unit price

per

Regular price

$7.50 CAD

Sale price

$7.50 CAD

Unit price

per

Regular price

$10.00 CAD

Sale price

$10.00 CAD

Unit price

per

Regular price

From $10.00 CAD

Regular price

$10.00 CAD

Sale price

From $10.00 CAD

Unit price

per

Regular price

$700.00 CAD

Regular price

$700.00 CAD

Sale price

$700.00 CAD

Unit price

per

Regular price

$75.00 CAD

Sale price

$75.00 CAD

Unit price

per

Regular price

$25.00 CAD

Sale price

$25.00 CAD

Unit price

per

Regular price

$145.00 CAD

Sale price

$95.00 CAD

Unit price

per

Regular price

$30.00 CAD

Sale price

$30.00 CAD

Unit price

per

Regular price

$265.00 CAD

Regular price

$265.00 CAD

Sale price

$265.00 CAD

Unit price

per